We did it! On 08/29/2022, I married the love of my life on a beautiful island that lies southwest of the Caribbean Sea – Aruba.
Aruba was the first place we vacationed as a couple back in 2016. Although Will's family took frequent vacations in Aruba, I have never been there before. I've seen photos of the gorgeous flamingos on social media and I was so excited to see one in real life! I remember when our driver dropped us off at the our hotel – Renaissance Wind Creek, and I was instantly captivated by the most majestic sunset I've ever seen my whole life. Will and I both knew then that this was our little slice of tropical oasis on earth, a hidden gem in the Caribbean Sea. 
Renaissance Island, Aruba
This private island is home to Aruba's most stunning beaches, wild flamingos and majestic sunsets.
When we first started our wedding planning process, the idea of a destination wedding really appealed to us for several reasons. First, as a non-traditional bride, I really wanted my guests to feel like they're on a vacation. Secondly, most of my family is in the West Coast while Will's is in the East Coast so no matter wherever the venue is, guests are going to travel. So why not have both sides get on a flight?
Living in LA, I'm lucky enough to be close enough to some of the most gorgeous beaches along the Pacific Coast Highway. I wanted to offer our guests something they couldn't get on either coasts –  a once-in-a-lifetime type of experience on a private island. We decided on a sunset wedding on Renaissance Island, a private beach where our guests can party amongst the flamingos and celebrate until midnight!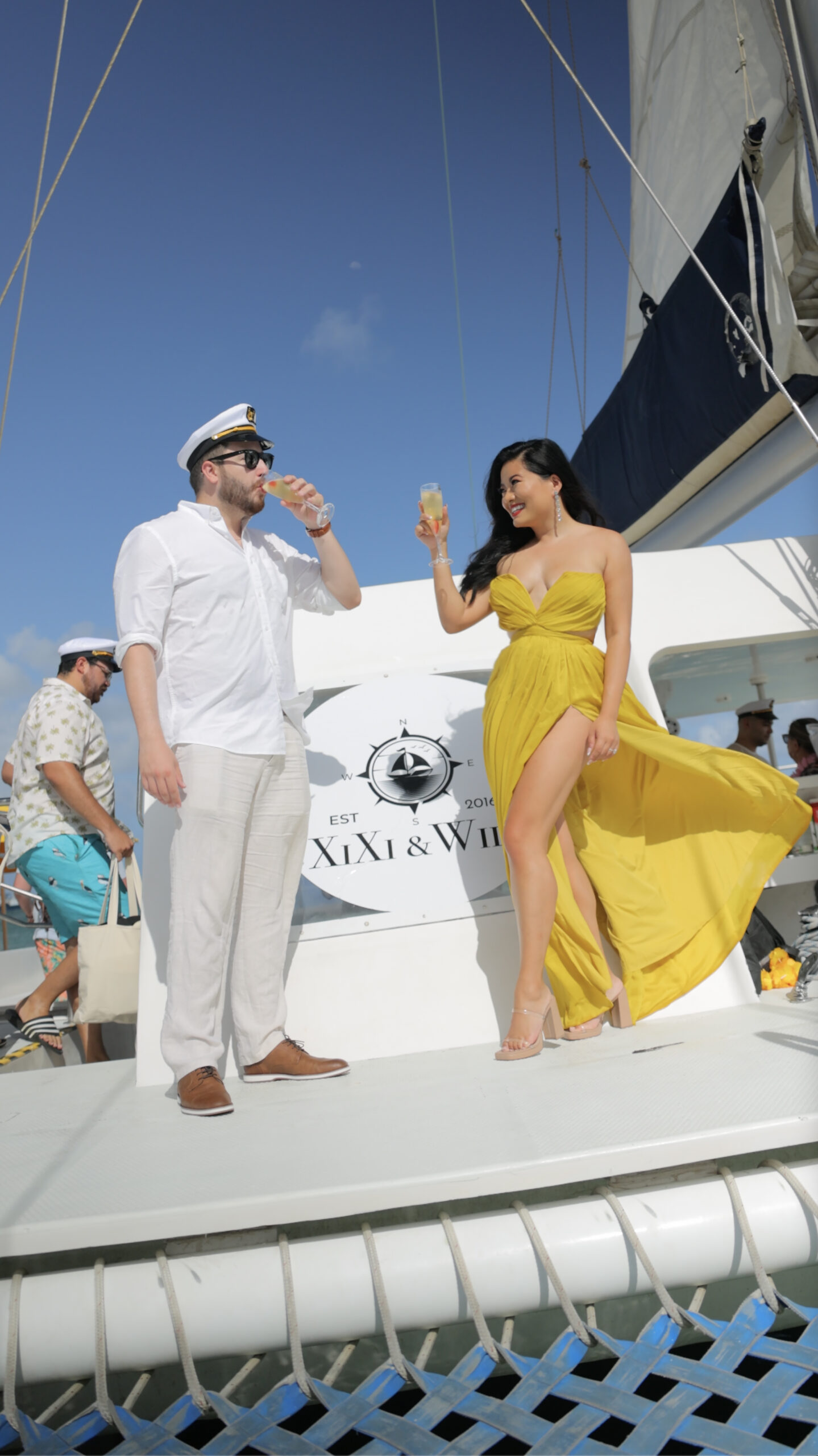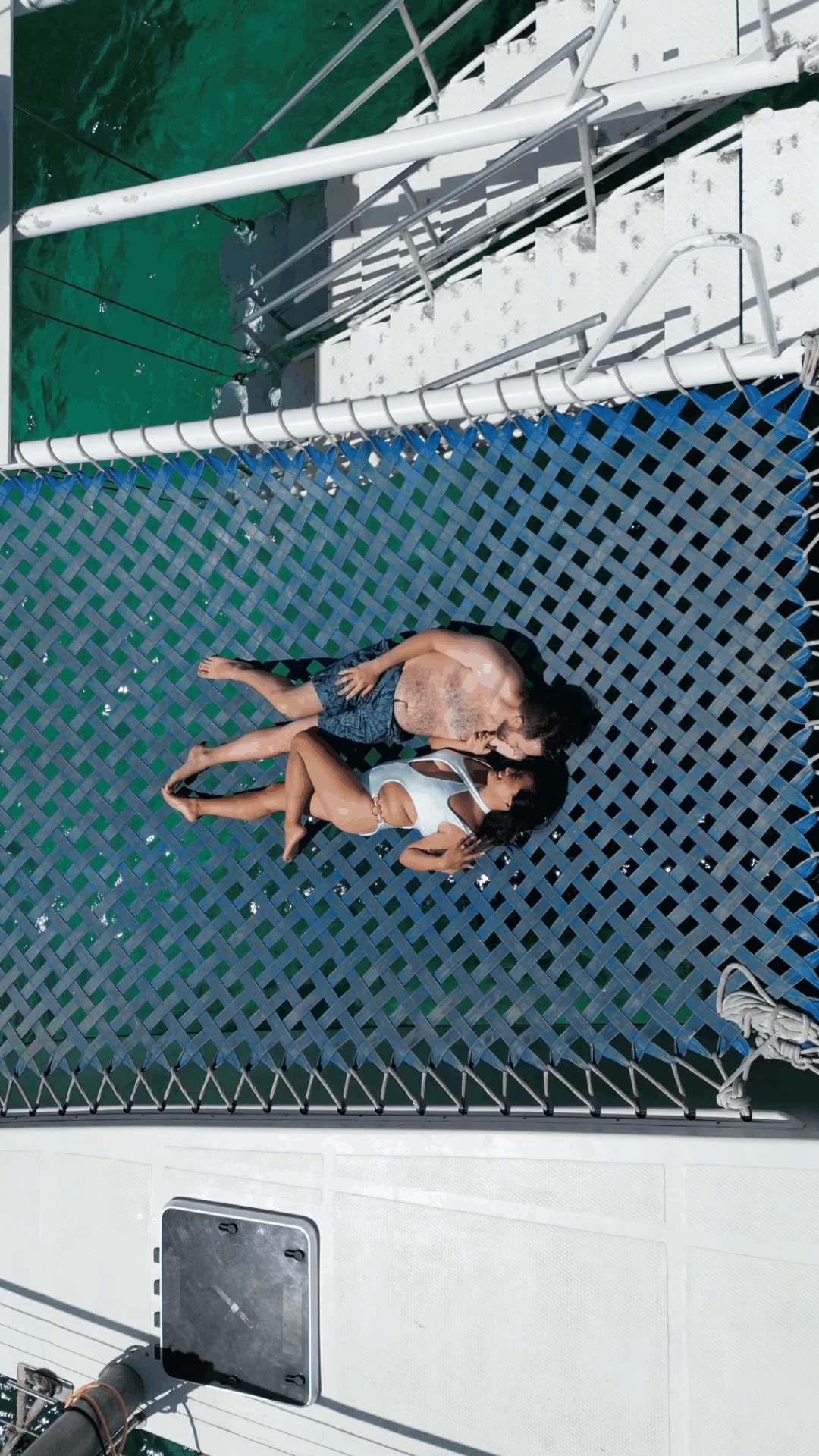 We booked a week-long wedding celebration that included both land and sea adventures to properly welcome our guests to Aruba! We asked our guests to get in a few days prior to the wedding date and treated them to a catamaran brunch, a welcome dinner, and a wild UTV excursion that also provided a tour of the island. 
We made sure to block off the day before the wedding as a content day to shoot our bridal photos so on our big day, we could actually live in the moment instead of worrying about photos!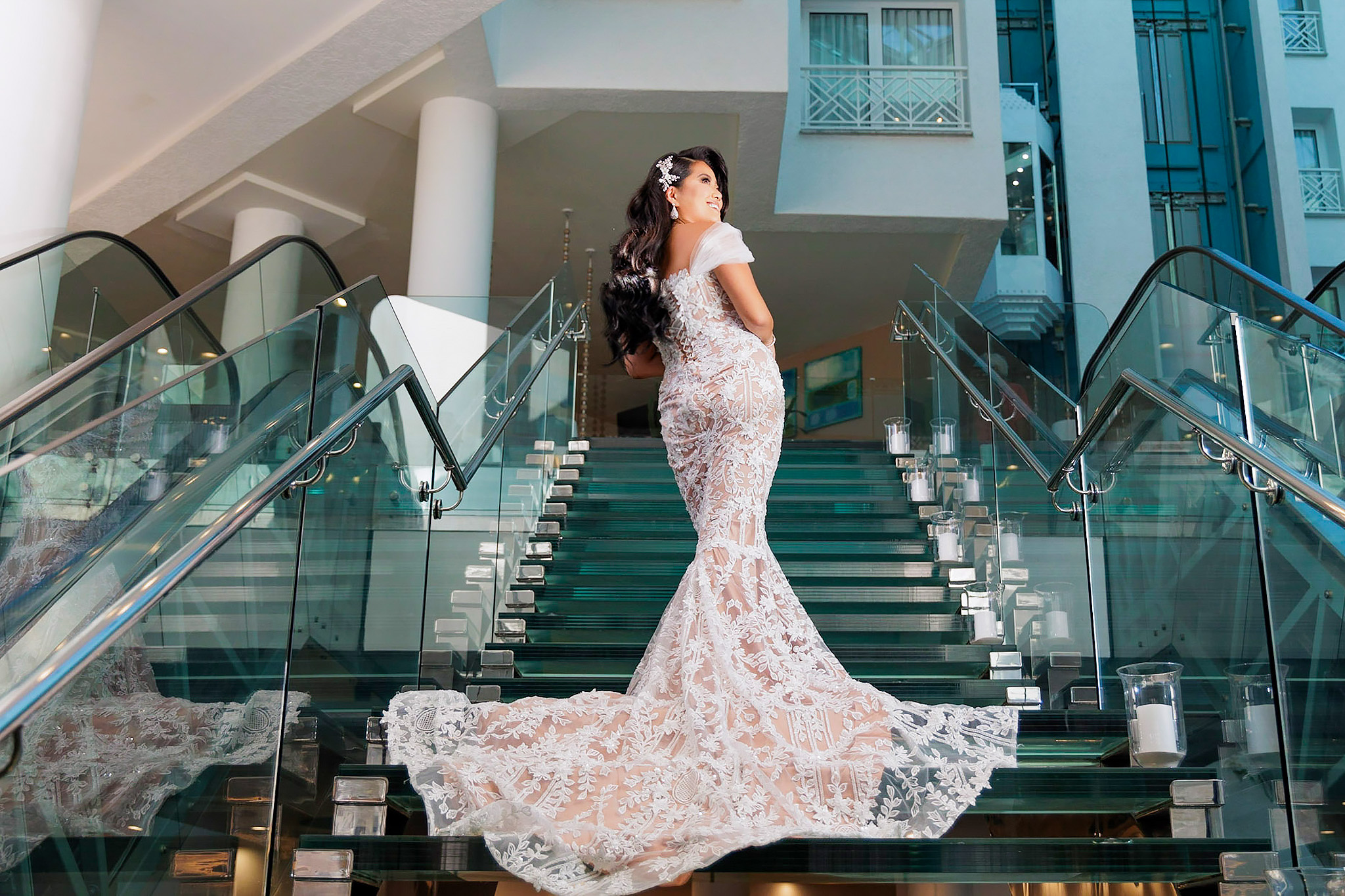 The morning of the wedding was very relaxing for me. Will surprised me with a massage at 9am… how sweet is that?! I got ready with my mom, my sister, and a few of my dearest friends stopped by throughout the morning, including my best friend Michael Costello who designed my gorgeous wedding dress. I had my makeup and hair done by Apollo, one of my favorite go-to makeup artists who does all my makeup for the Oscars, Grammys, and more red carpets. We went for a classic Hollywood glam meets beach makeup with smokey eyes, bronze cheeks and nude lips! He added on two packs of hair extensions from Glam Seamless to lengthen my curls and make my hair more voluminous.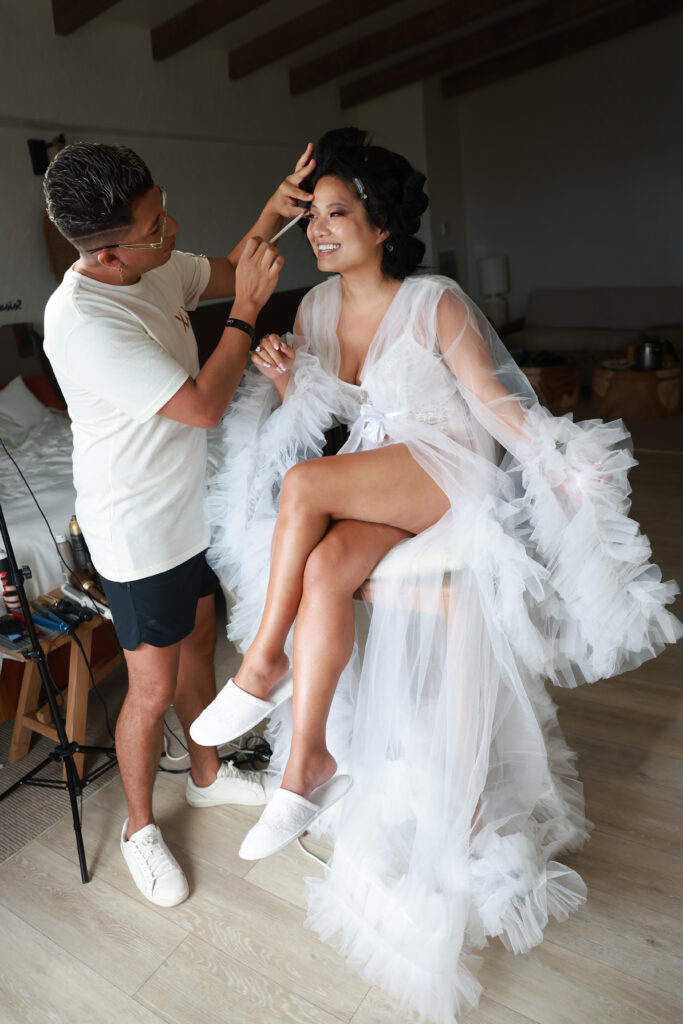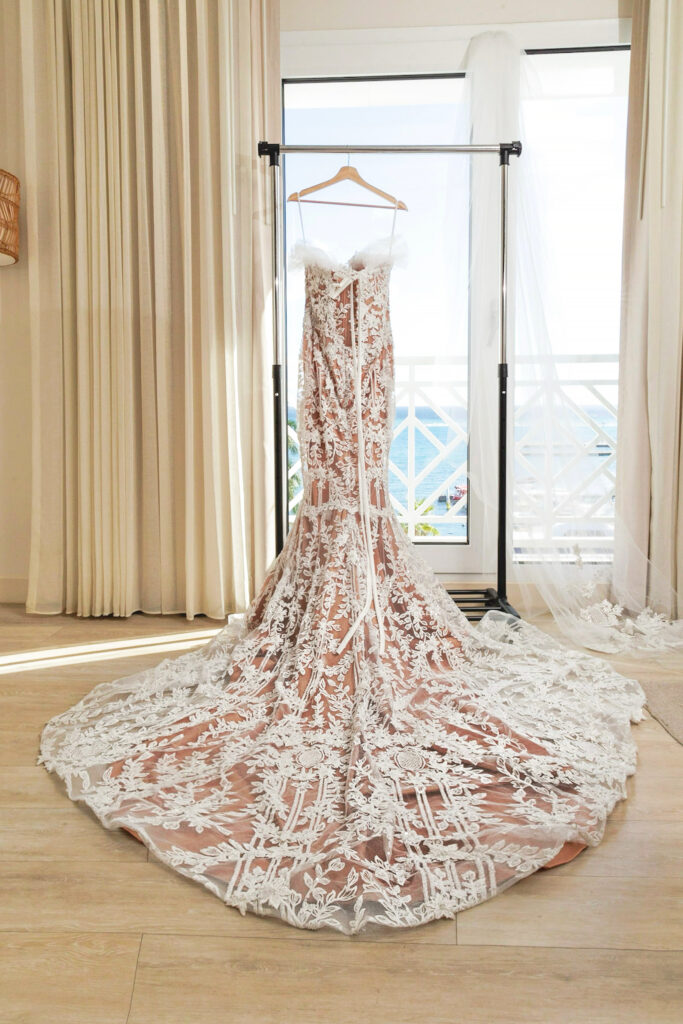 My bridal jewelry pieces were sent to me by my dear friend Charlie Lapson. Charlie and I hand selected a few pieces for me to gift to my mother, my sister, Will's mom and my friends. It was so much fun picking out earrings that were individually unique, each reminding me of one of my closest's personalities, yet looked great cohesively together! When I gifted my mother with a pair of earrings I selected for her, she almost cried.
Around 5am, Will and his grooms were on the boat, heading from the hotel to Renaissance Island. All of our bridal guests followed. I, along with my father, hopped on the last boat at 6:45pm. 
When we arrived to the island around 7pm, I had a hard time getting down from the boat! The train of my dress was long, dramatic, and the skin-tight corset really did not allow much movement. Nonetheless, I made my way to one of the bungalows where Will and I did our first look. 
It's show time.
When we first met years ago, we talked until sunrise. Now, as the sun sets over the Caribbean Sea, indicating the completion of a cycle in this infinite loop of love, I promised him a lifetime of love as wild and free as the sea. 
And when we first kissed as Mr. and Mrs., a majestic pelican boldly flew across. Will is part Native American, and in his culture, pelicans symbolize a dream or a vision that we had been granted spiritual power and guidance. It was at that moment, we realized that Will's late grandma, who passed away earlier in the year we reconnected, has been watching over us from above. 
Our reception was at the Coral Beach. To treat our guests to the ultimate Caribbean experience, we surprised everyone with Carnival Dancers! The crowd went absolutely wild! They were such a big hit! Everyone was on the dance floor.
Towards the end of the night, I really wanted to take it all in. I slowly walked away from the dance floor with a grin on my face, seeing how much everyone was partying on the dance floor. I walked alongside the beach and dipped my toes in the sand along the beach. I saw the nearby flamingos and I couldn't believe this was my life. 
I got to marry the guy of my dreams and I had the ultimate destination wedding on a private island with flamingos. 
What's next?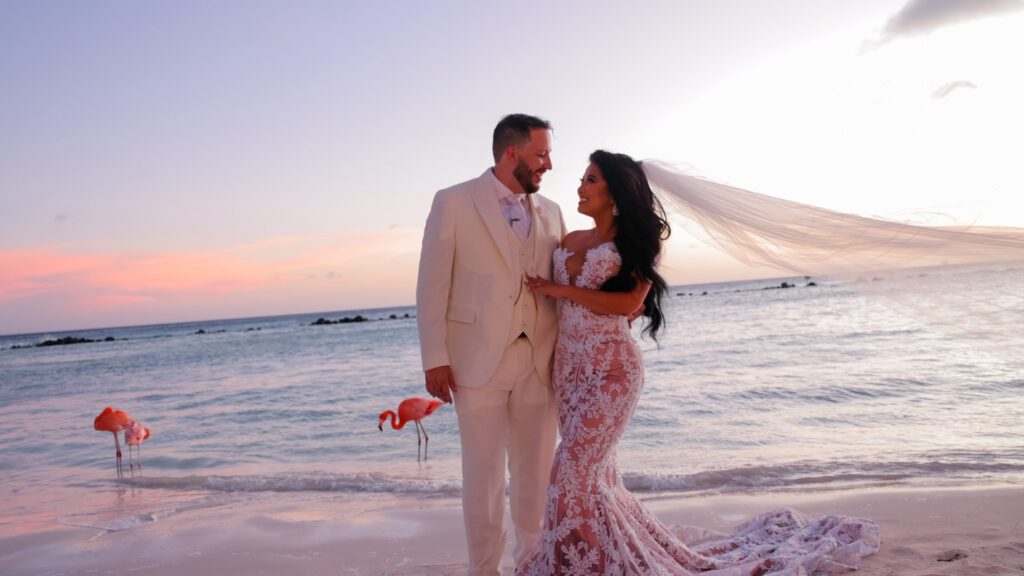 VENUE – RENAISSANCE ISLAND, ARUBA
WEDDING PLANNER AND COORDINATOR ZULAIKA BOEKHOUDT
BRIDAL DESIGNER MICHAEL COSTELLO
BRIDE'S JEWELRY CHARLIE LAPSON JEWELRY
BRIDE'S SHOES KELLY & KATIE
BRIDE'S HAIR APOLLO BARRAGAN
BRIDE'S MAKEUP APOLLO BARRAGAN
GROOM'S ATTIRE MICHAEL COSTELLO
RINGS MARK EDWARDS JEWELRY & ZALES
INVITATIONS AND SIGNAGE MINTED
MUSIC Ceremony: LIVE MUSIC ARUBA; CEREMONY & COCKTAIL HOUR: STEPHANIE; RECEPTION: JOYRIDE
CATERING: RENAISSANCE ARUBA CONVENTION CENTER
CAKE : RENAISSANCE ARUBA CONVENTION CENTER
TRANSPORTATION: INTEREX DRIVE – ALLAN GOEDE
CARNIVAL DANCERS – COCO RICO DANCERS
SPARKLERS and sign: HIGH PERFORMANCE ARUBA, TRAVIS BERNADINA
CEREMONY STAGING: THE PERFECT TEAM ARUBA, SHARS FLOWERS
RECEPTION STAGING: THE PERFECT TEAM ARUBA
ACCOMMODATIONS: RENAISSANCE ARUBA
PHOTOGRAPHER: VICTOR WINKLAAR
VIDEOGRAPHERS: SOFIA ROMAN & JAMES MCMILLIAN